Evanston Township High School
Class of 1970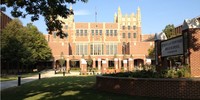 Joseph DeLapp
Profile Updated:
February 3, 2019 | | |
| --- | --- |
| Current Home: | Roswell, GA USA |
| | |
| --- | --- |
| Job/Work Activity: | Senior Exec.; 20+ years as a CEO |
| | |
| --- | --- |
| Children/Grandchildren: | Three children--JK (37), Ashley (34) and Kyle (30) |
Yes! Attending Reunion Thanks Stu----and I will get to the donation page you were so kind to set up on FB for Mike's mother Vivian. You are a good man sir. Some of you on Facebook with me may have seen the post I had on Mike's death--an edited version follows:
Mike Cunningham, my good friend since 4th grade in Evanston, IL, died suddenly. I learned this from his working partner, the rising singing star Andrea Miller. FB nor here is not where I want to exhibit personal grief, which I am experiencing. This is to make others who knew Mike a) aware that he died shortly after moving his 93-year-old mom Vivian from FL and himself from IN so that he could care for his mom and b) give this nice guy a heart felt tribute.
Many of you might not know that Mike had become a very accomplished songwriter, composer, musician—largely jazz, but a whole body of work from Classical to contemporary. It was more than just a hobby for this professional accountant, but "his little gift" as he called his musical talent, was his PASSION. He would get up around 5:00 AM every morning and compose before addressing his professional duties. Every other waking moment not needed for his profession was dedicated to music, too. Many of his originals and rearrangements were written with Andrea in mind. If you watch the YOUTUBE post from Andrea here you can hear both artists' work blend beautifully. You can see Mike speak as well and the talent our classmate Mike and his singing partner Andrea have.
https://www.youtube.com/watch?v=NhjK6ZuEY1U
Mike has a few original songs for Christmas from the duo's "Christmas Collection." I think "LIFT YOUR HEARTS," #10 on the album, should be a holiday classic. It is that good. There are one or two other originals and arrangements that are favorites of mine. The album is listed on iTunes (red cover—his professional music name is Michael Cunningham).
https://www.youtube.com/watch?v=PubkiD6kt5w&feature=youtu.be&fbclid=IwAR30CbUygYPc-X0B5Wh8v1GsHsT8LrIpflAlWLFVdzqfsqZBX4BAaWLlMrc
MIke's arrangement with Andrea on a "THE WATER IS WIDE" is a home run as well--simply beautiful:
https://www.youtube.com/watch?v=nkyANUWhmoo&feature=youtu.be&fbclid=IwAR0dycWkKjKQ7Wt_-jKBzxbYVvlfhuP0GQwSw4mytzgu0slBLGPzq6cfNlE
Mike ("Fuzzy" to his close buddies in Evanston) and I received our Eagle Scout awards together from Troop 24 in Evanston. We last reunited in person a year ago November for my birthday in South Bend. He sat with my brother Greg and Greg's son Paul in pouring, drenching rain—it rained heavily from kick off to the end of the Notre Dame football game—and in 37-degree weather. Each of us wore three layers of clothing, three hats, two ponchos and plastic garbage bags to cover our feet as we watched ND swim by Navy. Mike was ready to hang it up at half time because he was so wet and cold, but knowing the occasion, stayed with me after I shared a few spare dry clothes with him (he told me after the game ended at my cousin Brigid Kibbe's house and beyond the reach of that South Bend cyclone that he was more than ready to leave at half time). That's a good freind.
Mike's last non-FB correspondence to me was to send his new 3-song CD featuring Andrea that the two had just cut. Andrea and Mike were to record one other song together on April 29 in Chicago and then play at a booking together May 1 that Stuart Green arranged. That did not happen, unfortunately, because Mike's arrangment could not be found, but Andre did fly in from LA to Chicago to meet with Stu and Mike's other musical freinds. Maybe in death now, others may now discover Mike's talent.
The trouble with a sudden death like Mike's is the deceased often has not said his peace to everyone. Mike and I had many talks over the years, so we can check off that one for us. I cannot officially speak for Mike, but I know from those talks that his fellow musicians, friends from the Evanston "Y", scouting and the "Lincolnwoodies," Haven Jr. High and ETHS were truly dear to him. Nice pics Deb...sorry I could not make the 45th. Joe DeLapp Posted on: Jul 29, 2015 at 11:13 PM
Cindy--you are too modest. I am not sure I will be able to attend yet, but would certainly like to circle back to you and others from the class of '70. Jim Westfall, who lives in SF, Ben Bridges and I get together with a few others (e.g. Bill Geiger, Ham Kerr, Jim Kinsor, Jeff Willemain, Bo P., Chris Calm, Susie (Dorsett) M, Jim Mathison, Mike "Fuzzy" Cunningham and others--need to link you in as well. Joe DeLapp