Evanston Township High School
Class of 1970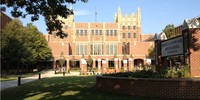 Grade School Reunions
Welcome to the Grade School Reunion page.
Several of our Grade School Classes have planned events in conjuntion with our 50th Class Reunion, as you can see below. It's not too late! Find a grade school classmate or two using the Classmate Profiles tab and plan something as simple as burgers at Hackney's or whatever suits your style. If you have a plan, email Joel Stevens at eths70@yahoo.com and we can help you spread the word to all of our website members.
Current List of Grade School Reunions and Gatherings as of May 19, 2022
NEW! Oakton Elementary School reunion for members of ETHS Class of 1970:
What: The 58th Oakton School Reunion
When: Friday, September 2, 2022 at 1:00 pm
Where: At the "Circle" benches in Oakton School Woods
What: A B.Y.O. lunch followed by a tour of the school
Who: Anyone who attended Oakton School during the years 1958-1964, as well as spouses/significant others
How: RSVP to Nona Flores, ncflores52@gmail.com, and include whether you are bringing a guest.
In addition, Mr. Robinson, the Principal, indicated that the students would love to hear about the Oakton Class of 1964 and we have an idea for incorporating short bios, advice, and notes of appreciation for what Oakton meant to you, into a book for the school library. You can contribute whether you are coming to the reunion or not. Please send these to Nona, as well. We would need your input by August 1, 2022.
If you have any questions or comments about the project, please email me (Deborah Cohen Rich) at drrnaples@gmail.com.
NEW! St. Athanasius reunion for members of the ETHS Class of 1970:
I am happy to announce a scheduled tour of St. Athanasius for our 1970 ETHS Class Reunion. The tour will begin at 4:00 pm on Friday, September 2, 2022. Please email me, Gina Love Durfee, at RLDurfee@comcast.net to let me know if you or any of the other Grads can attend. Looking forward to seeing you at St. A's!
NEW! Dawes Elementary School reunion for members of ETHS Class of 1970:
We are excited to be planning a DAWES SCHOOL REUNION for our Class Reunion ETHS 1970.
We will meet at Dawes School, 440 Dodge Avenue, Evanston, Illinois
The weekend of our 1970 ETHS CLASS REUNION.
Thursday, September 1, 2022
4:30 pm
Please email Barbara Cobert Joseph for more details at: coby620@gmail.com
Hope to See You There!
Spread the news and let's celebrate ETHS 1970 and DAWES SCHOOL!
Lincolnwood Elementary School ZOOM Gatherings
Contact: Sue Weiss Boundy at sueboundy@gmail.com if you would like to join us.
The "Lincolnwoodies" have met on ZOOM twice already, and because of how much fun they have had, they are planning more of these mini-reunions in the near future. Let Sue know if you are interested!
Timber Ridge/Walker/College Hill combined reunion for members of ETHS Class of 1970
Contact: Joel Stevens at eths70@yahoo.com
Due to Walker School being the only one of these three schools still operating as an elementary school, we are planning to hold one reunion for all ETHS Class of 1970 members who attended any of the three District 65 schools located in Skokie.
Willard Elementary School reunion for members of ETHS Class of 1970:
Contacts: Mary Vickerman at maryadavick@gmail.com and Bruce Carmichael
Mary, Bruce and Bill Geiger hosted a Zoom Mini-Reunion for Willard on Wednesday July 21st, 2021 If anyone is interested in hearing about any future events, please reach out to them to let them know.
Who is next? We would love to hear from you!