Evanston Township High School
Class of 1970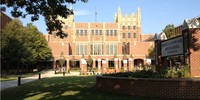 Grade School Reunions/History
Welcome to the Grade School Reunion/History page.
Did you ever wonder what happened to your school after you left? In 2002, The Evanston Round Table included a detailed look back on what was going on in District 65 in the 60's and 70's. Click HERE to read the article.
Now is a chance for you and your elementary school classmates to revisit your grade school history! Several groups are planning events that will take place while many of our classmates will be in the Evanston area for the Reunion.
Contact the District 65 Administration Office or the school to arrange a tour. If you decide you want to plan a reunion of any sort (meet and greet, ZOOM gathering, or a tour of the school), feel free to send an email to Joel Stevens at eths70@yahoo.com. By listing your reunion event here, you get the benefit of reaching all of our website members.
Current List of Grade School Reunions as of April, 2021
Oakton Elementary School reunion for members of ETHS Class of 1970:
Contact: Deborah (Cohen) Rich at drrnaples@gmail.com
ANNOUNCEMENT: OAKTON SCHOOL ZOOM INVITATION, APRIL 18TH, 2021
We are excited to announce that anyone who attended Oakton School is invited
to another ZOOM mini-reunion to take place on Sunday, April 18th, 2021
commencing at 8 pm EDT. Do you want to join in the fun? If so, please email me,
Deborah (Cohen) Rich at drrnaples@gmail.com so that you will receive a ZOOM
invitation. Those who participated in the ZOOM on February 15th, 2021 need not
email me....you will automatically receive an invitation. Do you know of any
Oaktoners who have not uploaded their profiles to the website and would like to
join in? Please contact them and ask them to email me if they'd like to participate
on April 18th or in any other upcoming Oakton reunion events. Thanks!!!! Hope
to see you soon....Deborah
Lincolnwood Elementary School ZOOM Gatherings
Contact: Sue Weiss Boundy at sueboundy@gmail.com if you would like to join us.
The "Lincolnwoodies" have met on ZOOM twice already, and because of how much fun they have had, they are planning more of these mini-reunions in the near future. Let Sue know if you are interested!
Dawes Elementary School Reunion for members of ETHS Class of 1970:
If you are interested in a mini-Dawes School Reunion Zoom Meeting ~ please keep reading!
We would like to set up a Zoom Reunion Meeting for Dawes School Alums.
This Dawes School Reunion Zoom meeting will take place THURSDAY, FEBRUARY 18, 2021 at 7:00 PM CST.
If you would like to be a part of this event, please email
Barbara Cobert Joseph at coby620@gmail.com. I will send you a Zoom invite closer to the date.
Spread the news and Let's celebrate ETHS 1970 and DAWES SCHOOL!
Timber Ridge/Walker/College Hill combined reunion for members of ETHS Class of 1970
Contact: Joel Stevens at eths70@yahoo.com
Due to Walker School being the only one of these three schools still operating as an elementary school, we are planning to hold one reunion for all ETHS Class of 1970 members who attended any of the three schools.
St. Athanasius reunion for members of the ETHS Class of 1970:
Contact: Regina Love Durfee at (904) 662-5639.
Regina has offered to coordinate a tour tentatively set for Friday afternoon, September 10th, 2021. Check back here for details.
Willard Elementary School reunion for members of ETHS Class of 1970:
Contacts: Mary Vickerman at maryadavic@gmail.com and Bruce Carmichael
Mary and Bruce are hoping to get a group together to have a Zoom Mini-Reunion for Willard in the next couple of months. If anyone is interested, please reach out to them to let them know.
Who is next?