Evanston Township High School
Class of 1970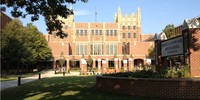 Who's Coming?
The following classmates are attending one or more events over our Reunion Weekend from September 1st - 4th. Classmates are checking the list, and might be looking for you!! Register now!
When you register you have the option to pay online by credit card or check, or at the door by credit card, personal check or cash. Please register now, even if you are planning to pay at the door. Contact me at willie.wildkit@yahoo.com if you have questions...
Last updated August 12th. The newest people are highlighted in blue. And, Woohoo! We now have 201 friends joining us on Saturday night as of today!!
We have 89 people (classmates and guests) attending Peckish Pig on Thursday, 134 people for Moretti's on Friday, 136 people for the ETHS Tour and Lunch on Saturday morning, and 206 people attending our 50th Reunion Celebration at the Double Clutch Brewery on Saturday night. Only classmates are listed below, unless the guest is a classmate:)
Abell (Hindman), Carolyn A.
Adams (Ferguson), Charlene
Adams, Mary
Ahern, Jan
Anderson (Elsass), Gail
Badesch, Roger
Bahner (Aster), Betsy
Bell, Susie
Bemus, Tim
Berger (Rainwater), Debbie
Berkeley, Lon
Berry, David
Bonham, David R.
Bookman (Schmidt) Alegra
Bothfield (Brown), Sandy
Bridges, Benjamin F.
Bridwell, Nelson
Brill (Lamonda), Linda
Bryson (Alberty), Marsha L.
Burke (Schneider), Kathy
Burrows (Jackson), Libby (Elizabeth)
Cadwell (Spatz), Nancy
Calm (Albers), Christie A.
Carlson, Walter
Carmichael, Bruce R.
Cherney, Chuck
Childress (Stringer), Sandra
Cobert (Joseph), Barbara
Cohen (Rich), Deborah
Coldren, Tom
Cook, Michael
Coran, Scott
Craig (Keller), Joan
Dejan, Daniel
DeLapp, Joseph
Divine, Dick H.
Doberstein, Don
Dorsett (Mazaheri), Susie
Drew, Tom
Duers, Grant M.
Eisenberg, Arthur E.
Ellen, Ken
Engeln, Jay T.
Feldman (Leibow), Deborah
Fideler (Perazzelli), Francesca
Fisher, Linda S.
FitzGibbons, Michael J.
Flores, Nona
Friedman (Goldberg), Geri
Fronczak, Gerald J.
Froy, Bruce
Gabler, Karen M.
Gaffin, Janice L.
Gaibel, Nitsan (Ken)
Gardner, Robert E.
Garretto, Mario
Geiger, Bill
Gilford, Steven R.
Goldblatt (Brenner), Susan
Goldstein (Brauner), Marna
Griffin (Thompson), Margaret (Peggy)
Hahn (Dunlap), Nancy
Hair, Nancy A.
Handler, Steve
Harris, Lamont
Herbon (Salazar), Geryl
Hicks (Taylor), Rhonda
Hirsch, Renee
Hoffenberg, Steven
Holtz (Desantis), Carrie
Horwitz (Hatcher), Patricia
Huller, Abigail
Jean-Baptiste, Lionel
Johnson (Gilford), Anne
Johnstone, Leigh
Kelley, Jim
Kelly, Kevin
Kincaid, Betsy
Kinzer, Jim
Kline, Bruce Logan
Kowalczyk, Michael
Kuttner (Gayle), Kathy
Lachman, Richard
Lane, Richard
Langerman, Daniel
Lawson (Carlsten), Janice
Lawson (Meadows), Mary
Levant, Lilyan
Levy (Kopf), Elaine
Lewis, Douglas
London, Paul
Love (Durfee), Regina
Luczak, Brian
Lyons (Cohen), Deborah
MacPhail (Gastorf), Deborah
Mastores, Scott
Miley, Nelle
Miller, Candy
Miller, Reed
Moller, Larry
Monasch, Miriam (Susan)
Mooney, Alan
Moorehead (Moorehead-Edwards), Phyllis
Morris (Kinzer), Meg
Morrison III, Dana
Myers, Charles
Nelson (Burger), Lee
Noosbond, Bert
Nunemaker, Charles
O'Connell, Paul
O'Donnell (Schulte), Kathy
Okerson (Knackstedt), Kathy
Pace (Miller), Pam
Perschke, Thomas
Pettinger, Roger
Piotrowicz (Barbosa), Mary Jo
Potts, Carolyn
Presendofer (Rowell), Betsy
Pustil (Hunley), Hollie
Redman, Mark
Reed, Tony
Reynolds, Mark
Rice, Suzie
Rippeteau, Dan
Roberts, John (Bill)
Rudy, George
Sackley, Ed
Saks, Randy
Salzman, Robert
Samuels, Elizabeth
Sargent, Mitchell
Schieber, Michael
Schultz (Carius), Paula
Schuyler, Lindsay
Schwartz, Steven
Schwimmer, David
Sheldon (Dietzgen), Joy
Sherwin (Rotenberg), Sally
Siegel, Jory
Silverman, Gary
Smith, Bob
Spector, Hugh
Stempel, Dale
Stevens, Joel
Stevens (Cain), Gwendolyn
Stewart, F. Chris
Stonesifer, Cindy
Tanzman, Ed
Thacher (Guari), Bonnie
Thompson (Edgley), Jane
Thompson, Robert
Todd, Douglas
Utley (Drew), Laurie
Vickerman, Mary
Walchirk, Nina
Waltman, Mike
Wandel, William
Watson, Richard
Weber, Chip (Alban)
Weiman, Darryl
Weisberg, Charles
Weiss (Boundy), Sue
Westfall, James
Willemain, Jeff
Williams (Ball), Carolynn M.
Wingate (Ryerse), Emily
Winokur, Steven
Wolf (Heffernan), Kris
Wolinski, James
Yale, Ken
Yeh, Timothy
Lynn Hoffenberg Callahan - Volunteer - Thank you!
Shari Goldberg Williams - Volunteer - Thank you!