Evanston Township High School
Class of 1970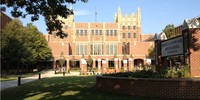 In Memory
Keith Harris
The following was contributed by Lucia Norris in late February.
Keith Lawrence Harris
Date Of Birth: 12-27-1952
Date Deceased: 10-18-2018
Age at Death: 65
Cause of Death: Broken heart he had lost his wife 7 months earlier
Classmate City: Skokie
Classmate State: IL
Classmate Country: USA
Was a Veteran: No
Survived By: His mother, Dorothy Harris, of Skokie, 2 sons Mario Chess and Kyle Harris and 3 grandchildren, his younger brother Sheldon B, Harris, 2 sisters-in-law, aunts and many nieces, nephews, and cousins.

Keith (aka Lil' Snatch) grew up in Evanston went to Foster, Haven, and then ETHS. He loved all sports, especially track and field where he made many friends. He was a great friend and person. He left behind two cousins with whom he grew up together, Lucia Norris and Leslie Mackey, both also class of 1970. After graduating ETHS, he joined his brother Duane (also deceased) at Philander Smith College in Little Rock, Arkansas. He worked at Commonwealth Edison till he retired. He enjoyed his wife, children, grandchildren and all his family life. He is missed at the bid whist table.