Evanston Township High School
Class of 1970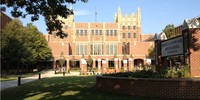 A Few Words from the Webmaster
Hello fellow Wildkits and guests!
Welcome to the newest ETHS Class of 1970 website on the Internet. Be aware there are already various other sites covering ETHS, ETHS Class of 1970, ETHS Class of 1970 Reunions and even "You know you are from Evanston...". These are great resources so people can connect, share photos, memories and more. We don't intend to duplicate those sites as they are up and running and are readily available for those who use them.
This site was born primarily out of the need to have one central place to register for our 45th Reunion Weekend (September 17 - 19, 2015) as well as be an ongoing website where all 1300+ classmates (including deceased) could be listed. Our goal is to exist before, during and after the 45th Reunion Weekend. So, consider this as an ongoing site that has every intent of being here as we move forward and get ready to mark our 50th Reunion. Now, THAT will be a milestone.
For now, look around the site and enjoy what has already been put in place. If you are a member of the Class of 1970, you would need to JOIN this site before you can enter information about yourself. Classmates who have already joined are listed on the Classmate Profiles page. Classmates who have not yet joined are simply considered "missing" and are therefore listed on the Missing Classmates page. All that is needed to JOIN the site is an email address and a password of your choice. Click the JOIN NOW link on the right hand side of the Home page to enter your email address and password. All other classmates who have not already joined as well as guests can view most of the pages on the site. Classmate Profiles that have a lock icon showing next to the classmate name on the Classmate Profiles page are restricted to being viewed only by website members. Guest members can be added to the website by contacting me at eths70@yahoo.com. Guest members are restricted and cannot create a Classmate Profile.
For those classmates who prefer to have their first name changed from how it appears on the Classmate Profiles page (James really wants to be Jim, Elizabeth really wants to be Betsy, etc.), just send me an email and I will change it. After 45 years, there is no need to stand on ceremony with first names that don't reflect what you used while at ETHS. The classmate names you see on the Classmate Profiles page were provided by the Alumni Association master list. That Association would not know if you went by a different first name while at ETHS.
Enjoy what we have built so far and know that it is a work in progress. We continue to tweak the Classmate Profiles list as well as the In Memory page to make sure those lists accurately reflects our class. If you see a need for a correction, just send me an email.
THANKS!

Joel Stevens
Webmaster
eths70@yahoo.com
P.S. As of March 23, 2020, our website is ad free for the next 3 years! Enjoy Live Chat with other website members and know that we have increased our website storage capacity (photos, videos) to 2 gigabytes of space. That is 2000 megabytes so lots of room for storing stuff.