Evanston Township High School
Class of 1970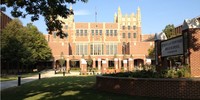 Grade School Reunions/History
Welcome to the Grade School Reunion/History page.
Did you ever wonder what happened to your school after you left? In 2002, The Evanston Round Table included a detailed look back on what was going on in District 65 in the 60's and 70's. Click HERE to read the article.
Now is a chance for you and your elementary school classmates to revisit your grade school history! Several groups are planning events that will take place while many of our classmates will be in the Evanston area for the Reunion.
Contact the District 65 Administration Office or the school to arrange a tour. If you decide you want to plan a reunion of any sort (meet and greet or tour of the school), feel free to send an email to Joel Stevens at eths70@yahoo.com. By listing your reunion event here, you get the benefit of reaching all of our website members.
Current List of Grade School Reunions as of January, 2021
Dawes Elementary School Reunion for members of ETHS Class of 1970:
Contact: Barbara (Cobert) Joseph at coby620@gmail.com
Barb is planning a tour at Dawes School during September, 2021. The specific date and time will be determined.
Timber Ridge/Walker/College Hill combined reunion for members of ETHS Class of 1970:
Due to Walker School being the only one of these three schools still operating as an elementary school, we are planning to hold one reunion for all ETHS Class of 1970 members who attended any of the three schools. Contact: Joel Stevens at eths70@yahoo.com
Oakton Elementary School reunion for members of ETHS Class of 1970:
Contact: Deborah (Cohen) Rich at drrnaples@gmail.com
Here is Deborah's announcement:
Shout out to all Oakton School Alums! I am organizing an Oakton School mini-reunion to take place during our 50+1 ETHS Reunion Weekend. It would be helpful if you emailed me your contact information as well as contact information for any Oakton Schoolers you may know who have not uploaded their profile to the website, so that I can invite everyone to attend. Thanks!!! and hope to see you in September, 2021.
St. Athanasius reunion for members of the ETHS Class of 1970:
Contact: Regina Love Durfee at (904) 662-5639.
Regina has offered to coordinate a tour tentatively set for Friday afternoon, September 10th, 2021. Check back here for details.
Willard Elementary School reunion for members of ETHS Class of 1970:
Contacts: Mary Vickerman and Bruce Carmichael
Mary and Bruce have been in contact with Willard's principal and are planning a tour of Willard at 4:00 pm on Friday, September 10th, 2021.
Lincolnwood Elementary School ZOOM Gathering, January 22, 7pm, Evanston time
Contact: Sue Weiss Boundy at sueboundy@gmail.com if you would like to join us.
Who is next?