Evanston Township High School
Class of 1970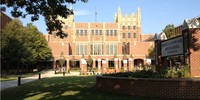 Reunion Info -The Details
ETHS Class of 1970
"Reunited, and it feels so good!"
Reunion Weekend - Helpful Information and Links
It's still not too late to join us!!
Registration: Pre-registration is available on this website until Tuesday, August 30th. After that you will still be able to register and pay at the door. Pay online with a credit card, or at the door with a credit card, check or cash.
Name Tags: We have a name tag for everyone that has registered, and extras for people that register at the door. You will receive your name tag at the first event you attend and it will serve as your "ticket" to the other events.
Checking in at Events: If you have your name tag, show it at the entrance. If not, just check in at the registraion table to get it. If you need to sign up and/or pay at the door, it will take longer, so please be patient. You may pay with cash, a check made out to "ETHS Class of 1970", or credit card.
Locations, Times, Parking: Links below will take you to maps.
Rides and Taxis: The City of Evanston Website has a helpful link here. We strongly encourage you to get rides, car pool and have a designated driver.
Outdoor Space:
Peckish Pig - There is some outdoor space as well as a large indoor space.
Moretti's - There is not outdoor space available to us. We have reserved a very large indoor space.
ETHS - The tour and the lunch are inside.
Double Clutch - We have very limited outdoor space and a large indoor space..
Accessibility: To request an accommodation or for inquiries about accessibility, please contact the individual venues.
Covid-19: We will be following all state and local regulations regarding Covid-19. At this time there are no restrictions that will impact our plans. As a precaution, especially in light of the rising Covid-19 cases, and out of respect for our classmates, we encourage everyone to be vaccinated. This is not mandatory and we will not be checking status, but it is appreciated. Masks are optional. Thank you.
If you need help, please contact me at willie.wildkit@yahoo.com