Evanston Township High School
Class of 1970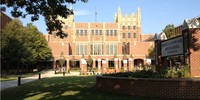 ETHS Class of '70 Class Gift
Fellow 1970 Wildkits,
We invite you to make a contribution toward a 50th Reunion Class gift that will make a lasting impact for ETHS students. Our gift will support the commission of a painting that will be the focal point in the new ETHS Alumni Hall, by classmate Ta-coumba (Tyrone) Aiken '70. In addition to this unique work, our donations will be used to support the Foundation's efforts to deliver the difference between what public funds provide and what educators and students need to excel at every level.
Please join us by helping us reach our goal! Gifts of every size are appreciated, and all donors will be recognized on the reunion website and in ETHS Foundation publications, unless anonymity is preferred. Whether you want to honor the past, recognize the present or build the future, we ask you to join us.
Thank you for your consideration.
Steve Hoffenberg '70 and your 1970 Class Reunion Fundraising Committee
All contributions will be made through the ETHS Education Foundation and will be tax deductible. Please identify yourself as a part of our class by writing "Class of 1970" in the space when they ask if this is a reunion gift.
ONLINE:
To donate, visit:
supporteths.org/classreuniongifts

BY MAIL:
ETHS Foundation
1600 Dodge Avenue, Evanston, IL 60201
Make your check payable to the ETHS Foundation and write "Class of 1970" on the memo line.
Visit the ETHS Foundation website supporteths.org to learn more about the Foundation and their impact at ETHS.
If you missed the ETHS Tour, the Education Foundation shared this video of some of the highlights, with a focus on contributions they have made to the school. It's impressive!