Evanston Township High School
Class of 1970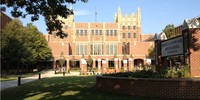 Stu Greene
Profile Updated:
June 23, 2015 | | |
| --- | --- |
| Current Home: | Barrington, IL USA |
| | |
| --- | --- |
| Job/Work Activity: | Sound Engineer |
| | |
| --- | --- |
| Children/Grandchildren: | Molly 16 |
Yes! Attending Reunion
Stu's Latest Interactions I remember the night he cold cocked me at the Student Union. One of my incisors pierced my lip. I can still feel the internal scar inside my mouth. A mind is a terrrible thing to waste. Very well said Joe.
Peace...
Stu Mike passed away suddenly in North Carolina while staying with his mother, Vivian, on April 8,2109. Services have been held. Composing and performing his music, along side his accounting practice, were his passions. On a personal note, the expenses associated with his final costs are overwhelming Mrs. Cunningham. If you would like to contribute, search for the Go Fund Me page I have established. Search for; Mike Cunningham's Finale. If this reaches you and know of someone who knew Mike, pass it along. Peace.
Hi John...are you coming up to the reunion? I know all the names couldn't be engraved on the memorial bench. But I made my contribution in memory of
Marty Krien and Ed Raszus. Both left too early, as all have. I will put out two empty shot glasses to show their presence of their spirits. Let's all have fun for those we remember. Elgin, Florida,Iowa...where are you now??
Yo Tom- Hot enough! yikes- hope all is well/ good to see you're on line
Cheers Marty passed away in Georgia in 2005.