Evanston Township High School
Class of 1970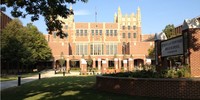 Latest Updates
As the page title indicates, you can find the latest news here regarding our Class of 1970 or other ETHS news. Of course, it is only as current as the information sent to the website. Feel free to drop me a note at eths70@yahoo.com if you have something to share. Anyone browsing this website can see the updates on this page.
Posted June 21, 2017
The website was informed that Paul Horberg passed away June 18, 2017
Posted April 4, 2016
Paul Glaser graciously forwarded his Timber Ridge 6th Grade picture and it can be found in the link called "Grade School Pictures", under Skokie Grade Schools.
Posted September 11, 2015
Ken Yale posted 3 additions to the Grade School Pictures gallery including Grades 1, 2 and 6 from College Hill school.
Posted August 26, 2015
Myron (Ron) Berger has posted all seven years of grade school class photos for the classes he was in at Dawes Elemetary School (K through 6th grade), from 1957-58 through 1963-64. Click on the link called "Grade School Pictures"
Posted June 28, 2015
The Prairie Moon restaurant, site of our 40th reunion, is chosen again as the site for our 45th reunion. Click the link titled ETHS Reunion Weekend Details located near the top of the left side column on this page or any page on the website to register for the Saturday night Reunion Party.
Posted June 19, 2015
Holiday Inn Chicago - North Shore (Skokie) was cancelled as the site for the Saturday Night Reunion Party. A new location and details regarding the Party will be posted soon.
Posted June 9, 2015
The website was informed that Richard Lawless passed away in 1985, Kent McChesney passed away a few years ago.
Posted June 7, 2015
Alvin C. Atlas - the website was recently notified that Alvin Atlas passed away on April 16, 2014. He was added to the In Memory page.
The year of a classmate's passing (when available) is now visible on the In Memory page.